DOWNLOAD THE PRO TOOLS APP IN THE APP STORE OR GOOGLE PLAY TO PARTICIPATE!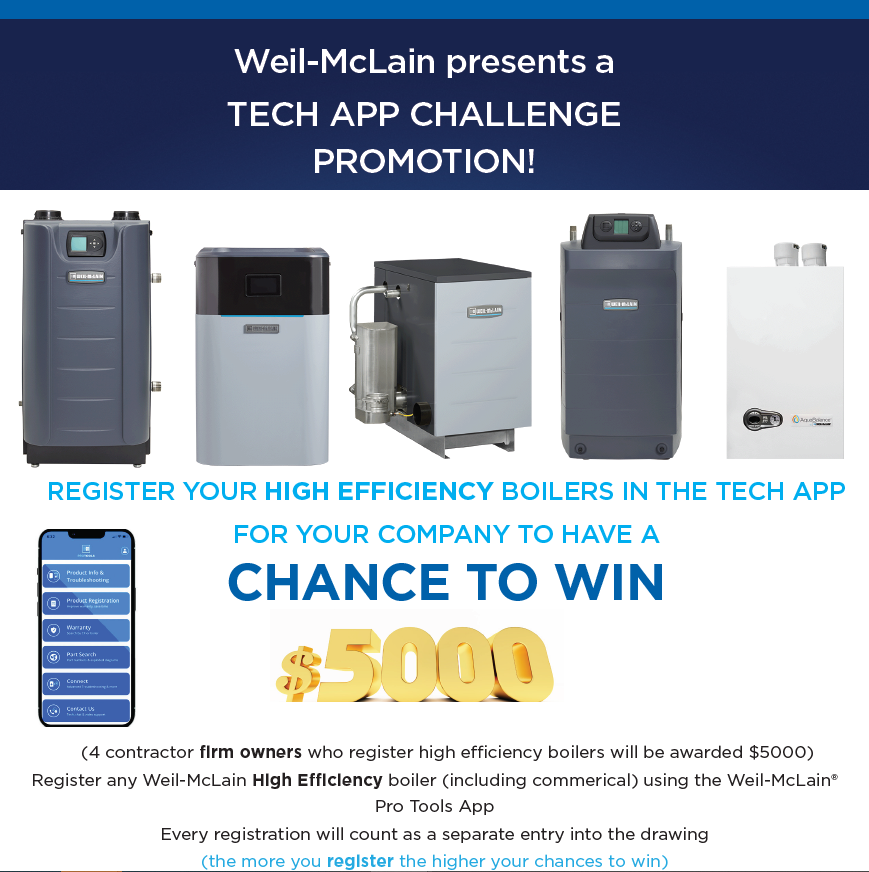 STEPS TO QUALIFY:
1.STARTING SEPTEMBER 1, 2022 - NOVEMBER 30, 2022 ALL HIGH EFFICIENCY WEIL-MCLAIN BOILERS (INCLUDING COMMERCIAL) CAN BE REGISTRED IN THE WEIL-MCLAIN® PRO TOOLS TECH APP AS AN ENTRY INTO THE DRAWING 
2. EVERY BOILER REGISTRATION WILL COUNT AS ONE ENTRY, YOU CAN REGISTER AS MANY AS YOU WANT TO INCREASE YOUR CHANCES OF BEING DRAWN 
3. WEIL-MCLAIN WILL RANDOMLY DRAW 4 CONTRACTOR FIRMS (NOT INDIVIDUALS) TO WIN $5,000 DURING THE SECOND WEEK OF DECEMBER 2022 
4. ALL WINNERS WILL BE NOTIFIED BY A WEIL-MCLAIN REPRESENTATIVE 
5. GOOD LUCK TO ALL!
TERMS AND CONDITIONS:
All boilers must be registered in the Weil-McLain® Pro-Tools tech app within the promotional timeframe. All registered products must be high-efficiency. Every registration will count as one entry into the drawing. Only one winner per company allowed. Weil-McLain will draw all winners during the second week of December. All winners will be notified by their Weil-McLain representative. WM Technologies reserves the right to terminate promotion at any time. Void where prohibited. A complete copy of the rules is available here: www.weil-mclain.com/ weil-mclain-promotions-and-specials