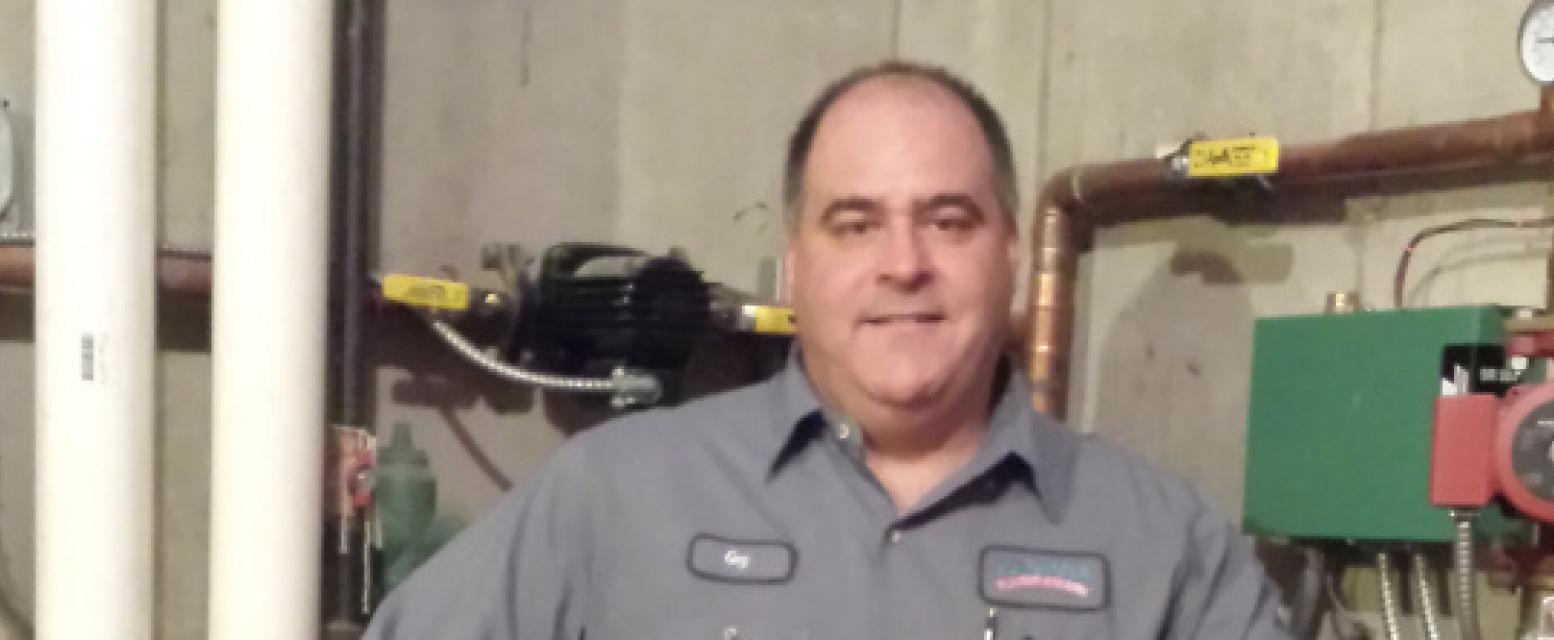 When the topic of increasing residential boiler efficiency comes up, a heating professional can evaluate the current heating system and make a recommendation on how to decrease heating costs by improving home heating efficiency. Guy Denommee, President of Denommee Plumbing & Heating in Tyngsboro Massachusetts, is that guy to call.
Guy is a 3rd generation plumber whose family was introduced to the Weil-McLain® products in the early part of last century. Since he has installed thousands of boilers, we'd consider him an expert on residential system evaluation and boiler installation. His boiler preference is anything with the Weil-McLain brand since his opinion is that Weil-McLain has always made the highest quality, most reliable heating products available in the market. When we asked Guy why someone should choose a Weil-McLain product over another brand, he stated:
"Weil-McLain has been making quality products in America for over one hundred years. People recognize the Weil-McLain brand and equate it with American made quality. The company stands behind their products with first class technical support, a real honest reputation and a great warranty. When I install quality products, my customers are happy and I look good. Over the years I have installed most other products on the market and nothing, in my opinion, compares to the quality, reliability and innovation. Weil-McLain products are easy to sell and no one ever questions why I recommend them."
Wouldn't you want someone who is recommending a boiler for your home to actually have that same brand in his home too? Well, he does.
"I wouldn't even consider having any other product in my home. I have the first generation Ultra™ gas boiler coupled with an Ultra Plus 80 Indirect-Fired Water Heater. For the last nine years I've enjoyed substantial energy savings and reliable operation. I feel safe at night knowing that the Ultra is keeping my family warm, protecting my investment and being stingy with fuel at the same time."
Even though Guy has an Ultra in his own home, the WM97+® and the ECO™ wall mount boilers are his favorite Weil-McLain products. It isn't hard to convince a homeowner that they should own an Energy Star® qualified boiler that is up to 95% efficient. When choosing products for an install, he looks for quality first because cheapest is not always least expensive in the end:
"People trust my opinion when purchasing a product. I need what I install to match my reputation. Weil-McLain never lets me down and if I ever have an issue, they work overtime to get it resolved. I go the extra mile for all of my customers and Weil-McLain has always done the same for me."
When Guy is on the job site, he treats every install with great pride. Just last year, he converted a homeowner's heating system from oil to natural gas. The customer was very pleased with the Weil-McLain Gold Oil Boiler but was having issues getting oil delivered and was interested in saving even more money on heating bills. It was an easy choice to install another Weil-McLain product and one with up to 95% efficiency was an added benefit. Three months after the WM97+ installation and during the winter in the Northeast, the homeowner's natural gas bill was $380.00. This same time last year, the fuel bill would have been roughly $650.00 running the oil boiler.
Taking the time to explain to the homeowner how the savings are calculated and estimate the overall cost savings shows that Guy goes the extra mile for his customers:
"$380 is great, and this year has been on average 7 degrees colder than last year to this point in time. We have had an average of 30 degrees this year and last year it was 37. We are seeing people's fuel consumption 30% higher during this period even with high efficiency equipment. 7 degrees is huge when it comes to fuel consumption. Your current bill reflects pretty much that 30% spike. I think if you were still on oil your bill would have far exceeded the $650, it would've been between $800 and $900 if my calculations are correct. Your payback should be pretty quick at that rate."
Guy is a contractor who is looking out for everyday Americans. He humbly states:
"They are the ones who benefit most from what Weil-McLain products have to offer. Your company is stitched into the fabric of America. I work for the everyday people that help make our country the greatest place on earth to live. Your boilers belong in everyone's basement and everyone deserves an opportunity to share in what Weil-McLain has to offer."
As proud as Guy is after each successful boiler install, Weil-McLain is just as proud, if not more, that he is our customer who is loyal to our brand. With Weil-McLain's solid reputation for designing and manufacturing hydronic comfort heating systems, contractors who install our products and homeowners who purchase our products are the lifeline to our continued success.