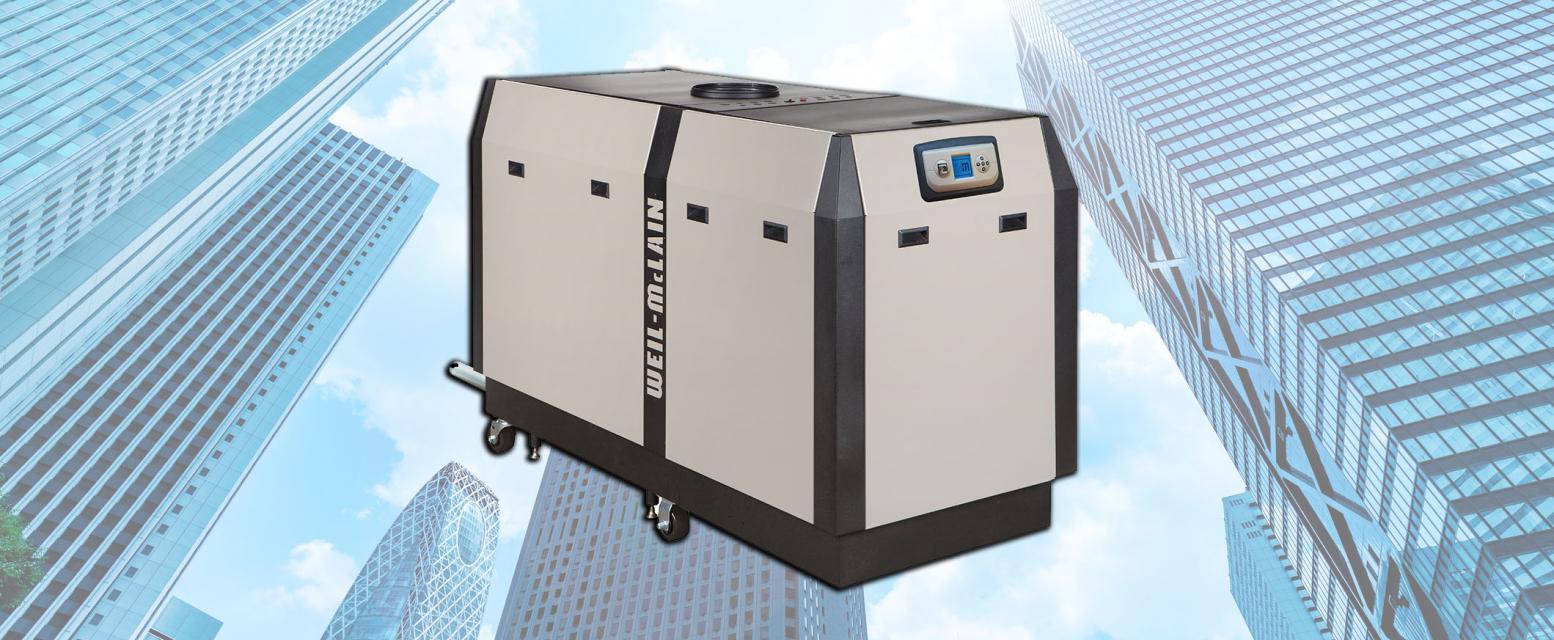 Weil-McLain® has enhanced its high efficiency SlimFit™ 1000, 1500 and 2000 MBH commercial condensing boiler line with the advanced capabilities of the UnityTM Controller. The upgrade is designed to reduce installation and set-up time for contractors, simplify boiler system design for specifying engineers, and improve control interface commonality and communication across the entire Weil-McLain high efficiency boiler line.
"Sharing the same software platform as the Evergreen™ line, the integration of the Unity Controller to the SlimFit 1000-2000 models now enables consistent controller logic for Weil-McLain high efficiency boilers 70 kbtu to 2000 kbtu," said John Miller, Senior Product Manager with Weil-McLain. "In addition, the new units are ideal for variable primary flow and hybrid boiler system applications and offer greater 'configurability' for change/add software requirements."
The new control features include a setup wizard that guides the installer through the start-up process and 10 preset typical heating operation conditions. The new design also features zone stacking up to 24 programmable zones without the need for additional external panels and 0-10 VDC analog output signal for easy integration with a lag boiler in a hybrid system.
Other additions include improved boiler-to-boiler communications, Modbus® and BACnet® for linking with BAS (building automation systems), express set up wizard, SmartSequencing™ to improve efficiency of multiple boiler systems and updated controls interface for simpler navigation, at-a-glance boiler status, diagnostics and troubleshooting.
With the upgraded SlimFit units, combined with Weil-McLain's high efficiency Evergreen product, the company now offers an entire line of commercial condensing boiler controls optimized for variable primary flow.
"Variable primary flow applications with condensing boilers are becoming more prevalent in the industry, with boilers no longer decoupled from the hydronic heating systems they serve," said Miller. "Design professionals seek products that integrate with these systems seamlessly."
With proven durability and reliability, SlimFit boilers are manufactured for easy integration into existing systems.
"Weil-McLain SlimFit and Evergreen boilers and controls combined with new or existing standard efficiency boilers provide key heating plant functions such as boiler staging to take advantage of condensing efficiencies when available and meet peak capacity requirements," said Miller.
SlimFit boilers provide thermal efficiencies up to 95.8%, making the product line one of the most cost-effective boiler systems to operate and maintain for retrofit applications.
The SlimFit boiler features a narrow "door-fit" profile and base-mounted roller casters for improved installation maneuverability in confined spaces and weight restricted areas, a critical solution for commercial retrofit projects. The units come completely factory assembled allowing for on-site plug-and-play installation, lowering installation costs and ensuring timely project completion.
"Every SlimFit boiler is factory fired and tested and arrives completely packaged, pre-wired, and pre-programmed," said Miller. "The smaller boilers are lightweight and the larger boilers come with wheels which make them extremely easy to maneuver and install."
Weil-McLain SlimFit boilers are available from stock for immediate shipment and quick delivery. For more information on the line on SlimFit boilers, please visit https://www.weil-mclain.com/products/slimfit-commercial-condensing-gas-boiler or contact a Weil-McLain regional sales office at https://www.weil-mclain.com/locations.
# # #
About Weil-McLain
Weil-McLain® is a leading North American designer and manufacturer of hydronic comfort heating systems for residential, commercial and institutional buildings. Founded in 1881, Weil-McLain is based in the Chicago suburb of Burr Ridge, Ill., with manufacturing facilities in Michigan City, Ind. and Eden, N.C., and regional sales offices throughout the United States.
Weil-McLain hydronic boilers and indirect-fired water heaters integrate the latest in advanced controls and materials using cast iron, stainless steel and aluminum with sophisticated heat exchanger technologies that deliver optimum energy efficiency and reliability. Architects, engineers, contractors, facility managers and homeowners rely on Weil-McLain to address a variety of comfort heating needs. Products are engineered with aesthetics, functionality, safety and structural tolerance in mind. Additional information is available at www.weil-mclain.com.