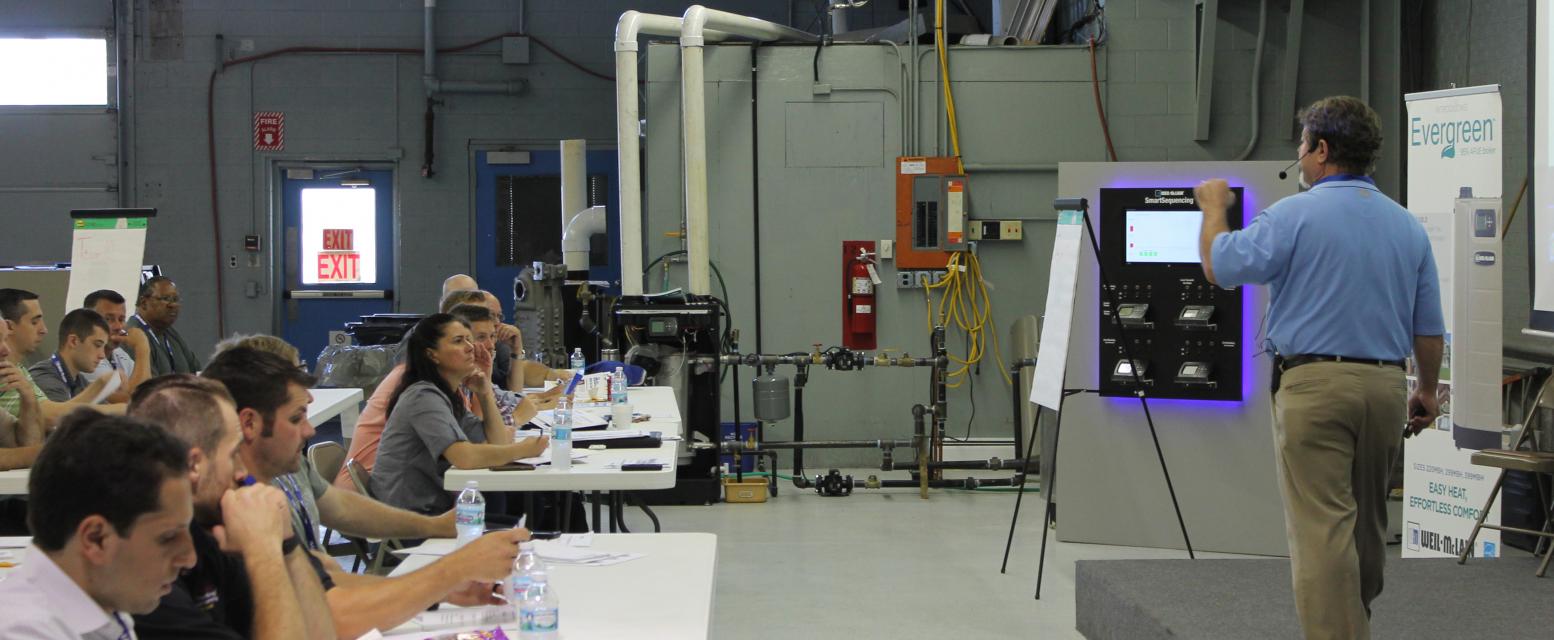 Residential heating contractors can hone their condensing boiler technology skills and knowledge by participating in Weil-McLain's 2018 School of Better Heating Presents: Condensing Boiler Technology - Contractor Edition program. The School of Better Heating program is an annual series of comprehensive training seminars from the leading North American designer and manufacturer of hydronic comfort heating systems.
Two separate dates are available and will feature a seminar and hands-on training for condensing gas boilers, including Weil-McLain's Evergreen® and AquaBalance™ models. The sessions will be held May 20-22 and May 22-24 at Weil-McLain's manufacturing facility in Michigan City, Ind.
Each course will cover the following topics:
Condensing boiler technology
Design, construction and operation of condensing boilers
Installation of venting, piping and wiring
Controls, set up and programming
Start up, maintenance and troubleshooting
"Our School of Better Heating program includes comprehensive boiler technology training, a foundry tour, reference materials and a certification of completion," said John Smart, Technical & Training Manager with Weil-McLain. "We also will host several events for attendees to network with other contractors in the industry, including an evening welcome reception to kick off each course."
The School of Better Heating reflects Weil-McLain's leadership in hydronic system training, which also includes extensive in-field experience with hands-on and application training, in addition to class instruction and special certified courses for continuing education.
Registration for the School of Better Heating residential contractor class is $249. Contractors also may redeem Boiler Bucks or utilize redemption coupons for attendance. For more information or to register, visit https://www.weil-mclain.com/residential-training. 
# # #
About Weil-McLain
Weil-McLain® is a leading North American designer and manufacturer of hydronic comfort heating systems for residential, commercial and institutional buildings. Founded in 1881, Weil-McLain is based in the Chicago suburb of Burr Ridge, Ill., with manufacturing facilities in Michigan City, Ind., and Eden, N.C., and regional sales offices throughout the United States.
Weil-McLain hydronic boilers and indirect-fired water heaters integrate the latest in advanced controls and materials using cast iron, stainless steel and aluminum with sophisticated heat exchanger technologies that deliver optimum energy efficiency and reliability. Architects, engineers, contractors, facility managers and homeowners rely on Weil-McLain to address a variety of comfort heating needs. Products are engineered with aesthetics, functionality, safety and structural tolerance in mind. Additional information is available at www.weil-mclain.com.